In addition to our grant work, the Foundation organizes and sponsors programs in support of our mission, such as the ones below.
Teens on Boards
Teens on Boards equips high school sophomores and juniors to serve as members of area non-profit boards. Open to students from any Noble County high school, the program trains participants in the art of volunteer services and how giving of their time, talent and treasure is essential to a non-profit's success.
Students gain real-life experience by serving on non-profit boards in Noble County for up to two years, often continuing their service after they graduate high school. Participating organizations have found this to be a beneficial experience. In some instances, these youth have been key players in helping to organize – or actually planning – priority events for the organization.
Through their involvement, students garner insights like:
How to make a motion
Agendas
Overview of Robert's Rules of Order
Intermediate Goals
Provide participants an opportunity to become active, productive members of the non-profit organizations they serve
Improve non-profit organizations through the addition of a youth perspective in regards to their organization needs
Long-Term Goals
Inspire youth to be involved in philanthropy as adults
Supply youth with an example of community philanthropy and involvement to emulate, as volunteering and community involvement is often learned generation to generation
Organizations currently participating in the program are:
Albion Parks Department
Black Pine Animal Sanctuary
Central Noble Food Party
Cole Center Family YMCA
Common Grace
Community Initiatives
Drug Free Noble County
Freedom Academy
Junior Achievement
Life & Family Services
Noble County Public Library
Noble House
United Way of Noble County
For more information, contact margarita@cfnoble.org or call us at 260-894-3335.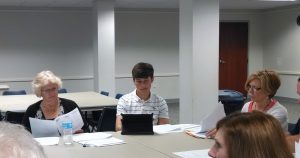 P.U.L.S.E. of Noble County
Philanthropists Utilizing Lifelong Service and Education
P.U.L.S.E. of Noble County is a group of service-minded youth who meet monthly to organize community projects that benefit Noble County and grant philanthropic dollars to other organizations making an impact.
P.U.L.S.E members represent Central Noble Community School Corporation, East Noble School Corporation, and West Noble School Corporation. There is one student representative from each grade level from 8th grade through 12th grade. The also have homeschooled and private school members.
Through financial support and training from the Dekko Foundation and Community Foundation of Noble County, these teens are taught the fundamentals of charitable giving. Community mentors and partners, including the three public school systems in Noble County, provide them with additional encouragement and support.
Top five things you didn't know about P.U.L.S.E.:
P.U.L.S.E. hosts and funds the Senior Citizen Prom (Prime Timers), which takes place at East Noble High School.
P.U.L.S.E. is dedicated to teaching the youth about philanthropy in various 4th grade classrooms.
P.U.L.S.E. gives scholarships every year to graduating seniors in memory of David C. Knopp, former P.U.L.S.E. Navigator and Community Foundation of Noble County Executive Director.
P.U.L.S.E. has traveled to New York City to participate in philanthropic giving in the community, such as visiting a homeless shelter.
P.U.L.S.E. grants money to educational purposes throughout Noble County.
P.U.L.S.E.'s mission is "to broaden Noble County's horizons of education and service through philanthropy."
P.U.L.S.E. welcomes new members each year! Seventh grade students attending West, Central, or East Noble have the opportunity to become members of P.U.L.S.E. in the spring. One student from each of the three schools will be accepted. In addition, there are occasionally openings for homeschooled students or those attending private schools.