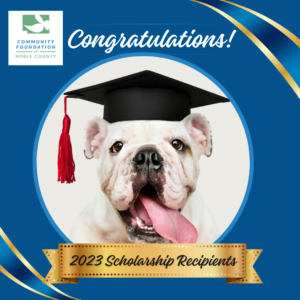 PRESS RELEASE
May 23, 2023
After years of schooling, tests, and studying, Noble County high school seniors and college/adult-age students were awarded for their achievements on behalf of the Community Foundation of Noble County. Central Noble, Churubusco, East Noble, Lakewood Park Christian School, Prairie Heights, and West Noble high schools each hosted an honors night/day to award their high school seniors with these scholarships and applaud their hard work. A staggering $194,000 was awarded to these hard-working students, thanks to the generosity of donors and the Community Foundation of Noble County.
Jennifer Shultz, Director of Communications and Scholarship said "The Community Foundation of Noble County is honored to offer over 55 unique scholarship opportunities with a wide G.P.A. range to our area high school seniors, college students, and adults who seek to reach their career goals. We appreciate the partnerships with our donors who wish to leave a legacy by offering such opportunities. We are grateful for the time commitment by the volunteer committee members to review the scholarship applications. The community foundation looks forward to the continued support of area schools, volunteers, and donors as the 2024 scholarship season begins in late November 2023".
To learn more about applying for scholarships, visit cfnoble.org/scholarships. For additional information or questions, contact Jennifer Shultz by email at Jennifer@cfnoble.org, by phone at (260) 894-3335.
Central Noble Jr/High School Scholarship Recipients
Brayden Fletcher, 2023 Carol Ann Tieman Scholarship
Brayden Fletcher, 2023 Cathy S. Knopp Theatrical Scholarship
Elisabeth Mains, 2023 Oliver and Eleanor Ellenbecker Bachelor's Program Scholarship
Jonah Hopf, 2023 Art and Jeanne Howard 4-H Scholarship
Kya Lock, 2023 John E. and Joan E. Robinson Scholarship in Memory of their son Bill Robinson
Kya Lock, 2023 Noble County Memorial Scholarship – 2
Kyndal Pease, 2023 Jack R. and Maxine C. Frymier Scholars Award
Kyndal Pease, 2023 Oliver and Eleanor Ellenbecker Education Scholarship
Lena Jackson, 2023 Charles and Bernard Duesler Scholarship
Lena Jackson, 2023 Dr. David and Alvena VanMeter Scholarship
Madison Vice, 2023 Oliver and Eleanor Ellenbecker Medical Profession Scholarship
McKenzie Tracy , 2023 Hazel Brown Truelove Scholarship
Churubusco High School Scholarship Recipients
Eva Refeld, 2023 John E. and Joan E. Robinson Scholarship in Memory of their son Bill Robinson
Eva Refeld, 2023 Top Honors Scholarship
Hailey Holbrook, 2023 Top Honors Scholarship
Kena Hamman, 2023 Tony and Gertrude Kichler Scholarship
Miriam Kline, 2023 Top Honors Scholarship
East Noble High School Scholarship Recipients
Addison Dills, 2023 Clarence and Marie Woolf Scholarship
Addison Dills, 2023 Hilda H. Rehwinkel Scholarship
Addison Dills, 2023 Max Sneary, M.D. Memorial Scholarship
Addison Dills, 2023 Oliver and Eleanor Ellenbecker Medical Profession Scholarship
Addison Dills, 2023 Top Honors Scholarship
Gabriel Zimmerman, 2023 Benjamin Murray Memorial Scholarship
Gabriel Zimmerman, 2023 Captain James M. Treesh Scholarship
Gabriel Zimmerman, 2023 East Noble Class of 1969 Scholarship
Gabriel Zimmerman, 2023 Talia Joy Smith "Performing Arts" Scholarship
Jenna Trout, 2023 Benjamin Murray Memorial Scholarship
Kati Mosley, 2023 Cecil C. and Bettie I. Smith Scholarship
Khloe Pankop, 2023 Benjamin B. and Kathleen June Earley Memorial Scholarship
Kolton Hunt, 2023 Paul Pelikan Memorial Scholarship
Kya Mosley, 2023 Joseph A. and Lolita J. Hornett Memorial Scholarship
Laney Schlichtenmyer, 2023 Delta Theta Tau Sorority IOTA IOTA Chapter Scholarshp Fund in Memory of Tammi Riecke
Laney Schlichtenmyer, 2023 Mayor's Youth Advisory Council Scholarship
Max Bender, 2023 John E. and Joan E. Robinson Scholarship in Memory of their son Bill Robinson
Max Bender, 2023 Noble County Memorial Scholarship – 1
Max Bender, 2023 Noble County Memorial Scholarship – 2
Max Bender, 2023 Top Honors Scholarship
Molly McCord,   2023 Trent Zuehsow Memorial Scholarship
Rachel Becker, 2023 Oliver and Eleanor Ellenbecker Education Scholarship
Rachel Becker, 2023 Peter R. Bottomley Scholarship
Rachel Becker, 2023 Top Honors Scholarship
Robert Rogers, 2023 Arthur and Hazel Auer Scholarship
Robert Rogers, 2023 Dave Smith Memorial Scholarship
Robert Rogers, 2023 Oliver and Eleanor Ellenbecker Bachelor's Program Scholarship
Sage Lawrence, 2023 John and Mary Schermerhorn Memorial Scholarship
Lakewood Park Christian School Recipient
Austin Shepherd, 2023 Top Honors Scholarship
West Noble High School Scholarship Recipients
Adalie Harper, 2023 Oliver and Eleanor Ellenbecker Bachelor's Program Scholarship
Andrew Saggars, 2023 Chuck Schlemmer Memorial Scholarship
Avery Kruger, 2023 P.U.L.S.E. SENIOR Scholarship
Benjamin Shaw, 2023 Caitlyn Marie Halferty Memorial Scholarship
Benjamin Shaw, 2023 Doris Gene Alber Ferrari Scholarship
Benjamin Shaw, 2023 Oliver and Eleanor Ellenbecker Education Scholarship
Benjamin Shaw, 2023 Timothy J. Martin Memorial Scholarship
Bethany Trinklein, 2023 John E. and Joan E. Robinson Scholarship in Memory of their son Bill Robinson
Bethany Trinklein, 2023 Ligonier Elks Scholarship
Bethany Trinklein, 2023 Noble County Memorial Scholarship – 1
Bethany Trinklein, 2023 Noble County Retired Teachers' Association in Memory of Deceased Teachers
Bethany Trinklein, 2023 Oliver and Eleanor Ellenbecker Medical Profession Scholarship
Bethany Trinklein, 2023 Prudence E. Gardner Memorial Scholarship
Bethany Trinklein, 2023 Susan A. Price Memorial Scholarship
Bethany Trinklein, 2023 Susan Marie Stone Scholarship
Bethany Trinklein, 2023 Top Honors Scholarship
Emily Mawhorter, 2023 Cromwell High School Alumni Scholarship
Emily Mawhorter, 2023 Ligonier Elks Scholarship
Emily Mawhorter, 2023 Noble County Memorial Scholarship – 1
Emily Mawhorter, 2023 Noble County Memorial Scholarship – 2
Grant Flora, 2023 Top Honors Scholarship
Isabella Bartlett, 2023 Doris Gene Alber Ferrari Scholarship
Isabella Bartlett, 2023 Oliver and Eleanor Ellenbecker Education Scholarship
Isaiah Lowe, 2023 Brandon A. Replogle "Celebrate the Arts" Memorial Scholarship
Joshua Ness, 2023 Gerald and Catheleen Hayes Scholarship
Joshua Ness, 2023 Jennie Thompson Scholarship
Kennidy Doege, 2023 Russell Smith Music Scholarship
Lee Stringfellow , 2023 Edgell Vocational Scholarship
Lee Stringfellow , 2023 Edward and Beverly Zimmerman Memorial Scholarship
Lee Stringfellow , 2023 Wawaka Alumni Scholarship
Prairie Heights High School Scholarship Recipient
Isaac Derbyshire, 2023 Kris Campbell "Any Dream Will Do" Scholarship
College/Adult Scholarship Recipients
Aletha Hoover, 2023 Oliver and Eleanor Ellenbecker Previous Award Winner Scholarship
Austin Liepe, 2023 Nathan Shumaker Memorial Scholarship
Austin Liepe, 2023 Oliver and Eleanor Ellenbecker Previous Award Winner Scholarship
Bergen Tom, 2023 Hal Prickett Memorial Scholarship
Jackson Hoover, 2023 Oliver and Eleanor Ellenbecker Previous Award Winner Scholarship
Kolton Bailey, 2023 Oliver and Eleanor Ellenbecker Previous Award Winner Scholarship
Kolton Bailey, 2023 Paul Glass Memorial Scholarship
Lillian Mast, 2023 Chuck Schlemmer Memorial College Scholarship
Lillian Mast, 2023 Fred and Mildred Seymoure (Young) Memorial Scholarship
Lillian Mast, 2023 Oliver and Eleanor Ellenbecker Previous Award Winner Scholarship
Mariah Maley, 2023 Dr. Richard R. (MD) and Theresa M. Gutstein Memorial Scholarship
Mariah Maley, 2023 Oliver and Eleanor Ellenbecker Previous Award Winner Scholarship
Stephanie Lewis, 2023 Max and Elizabeth Roesler Memorial Scholarship
Susan Haviland, 2023 Max and Elizabeth Roesler Memorial Scholarship
Will Hoover, 2023 Oliver and Eleanor Ellenbecker Previous Award Winner Scholarship
###
https://cfnoble.org/wp-content/uploads/2023/05/Blue-and-Gold-Modern-Congratulations-Instagram-Post.png
1080
1080
Jennifer Shultz
https://cfnoble.org/wp-content/uploads/2017/02/nccf_logo-1.png
Jennifer Shultz
2023-05-23 10:47:50
2023-05-23 12:13:15
2023 Scholarship Recipients Announced