COMMUNITY FOUNDATION SELLS LIGONIER PROPERTY TO LIGONIER REDEVELOPMENT COMMISSION       
The Community Foundation of Noble County has sold its Ligonier property to the Ligonier Redevelopment Commission.
In 2021, the Board of Directors made the decision to sell their Ligonier property which housed its office staff. That location housed the foundation for 22 years as we served the Noble County community.
The board of directors of any nonprofit organization has three primary legal duties known as the "duty of care," "duty of loyalty," and "duty of obedience."
Duty of Care: Take care of the nonprofit by ensuring prudent use of all assets, including facility, people, and good will;
Duty of Loyalty: Ensure that the nonprofit's activities and transactions are, first and foremost, advancing its mission; Recognize and disclose conflicts of interest; Make decisions that are in the best interest of the nonprofit corporation; not in the best interest of the individual board member (or any other individual or for-profit entity).
Duty of Obedience: Ensure that the nonprofit obeys applicable laws and regulations; follows its own bylaws; and that the nonprofit adheres to its stated corporate purposes/mission.
However, a board of directors does not exist solely to fulfill legal duties and serve as a fiduciary of the organization's assets. Board members also play very significant roles providing guidance to nonprofits by contributing to the organization's culture, strategic focus, effectiveness, and financial sustainability, as well as serving as ambassadors and advocates. Beyond fulfilling legal duties, board members can be important resources for the organization in multiple ways.
Using its "Duty of Care" the board had two options for selling of the property, listing with an agent or find a buyer ourselves. We discussed what outcomes we wanted to have from the sale of this property which included getting a fair and just price. Most importantly, though, we wanted to be "good neighbors" to the City of Ligonier and allow the property to be used to make a positive impact on the entire Noble County community!
We engaged in discussions with the City of Ligonier officials and the Ligonier Redevelopment Commission voted to make us an offer. The Ligonier Redevelopment Commission's mission has always been to invest in industry, and they have done excellent work bringing high paying manufacturing jobs to Ligonier. They have recently turned their focus to housing, one of Noble County's top issues. Through the sale of this land to the Ligonier Redevelopment Commission, 27 acres will now be available for a new housing development. Additional housing is critical to a thriving community, and the Community Foundation of Noble County is excited to be fulfilling our mission as a catalyst for positive change in this way.
The profits from the sale of CFNC's Ligonier property will be reinvested into the Foundation's assets to benefit Noble County.
About the Community Foundation of Noble County, Indiana, Inc.
At the Community Foundation of Noble County we are passionate about making Noble County an even better place to call home. Since 1991, area residents have been turning to the Community Foundation of Noble County to make their philanthropic giving as effective as possible, as we see it as our mission to serve as a catalyst for positive change. The Community Foundation of Noble County is a public charity 501 (c) 3 entity.
As a group of invested community members, we identify local current and emerging issues and stimulate resources to address those needs, helping our region prepare for the future. We then leverage gifts and bequests from generous donors like you to drive positive change through grants in such areas as arts and culture, education, health and human services, civic affairs, and other charitable areas of interest.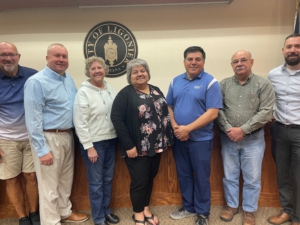 Pictured (l to r) RDC Members Paul Fought, Bryan Shearer, Julie Bell, CFNC ED Margarita White, CFNC BOD President Frank Tijerina, John Mangona, Chris Fought.
###
https://cfnoble.org/wp-content/uploads/2023/04/Ligonier-Redevelopment-Commission-and-CFNC-Officials-scaled.jpg
1920
2560
Jennifer Shultz
https://cfnoble.org/wp-content/uploads/2017/02/nccf_logo-1.png
Jennifer Shultz
2023-04-12 10:35:53
2023-04-12 10:35:53
Community Foundation Sells Ligonier Property to Ligonier Redevelopment Commission