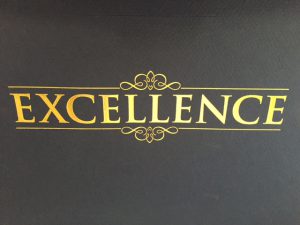 The Noble County Community Foundation is accepting applications for the 2017 Lilly Endowment Community Scholarship beginning August 3, 2016 with the deadline on September 7, 2016 at 3:30 pm.
WHAT IS THIS SCHOLARSHIP FOR?
It is for Noble County's 2017 Lilly Endowment Community Scholarship.  This is a four years of full tuition and required fees awarded to one well-rounded high school senior who resides in Noble County, that will receive a diploma from an accredited Indiana high school by the end of June 2017, and will pursue a full-time baccalaureate course of study at an accredited public or private college or university in Indiana.  Students must achieve a high school grade point average of at least 3.80 on a 4.00 scale at the time of application.  Students need to be well-rounded seniors through their community service, volunteerism and extracurricular activities and work experience as well as leadership roles.
THIS SCHOLARSHIP DEADLINE IS DIFFERENT FROM YEARS PRIOR. WHY THE CHANGE?
The organization that oversees the Lilly Endowment Community Scholarship felt a change was needed based on feedback from community foundations around the State of Indiana.  This allows the winners of the scholarship more time to decide on their Indiana college of choice.  The winner of the scholarship will be announced around the middle of December 2016.
WHAT IS THE G.P.A. REQUIREMENT FOR THIS SCHOLARSHIP?
It is now 3.80 on a 4.00 scale. Students cannot round their GPA from a 3.79.
DO STUDENTS NEED TO TURN IN TRANSCRIPTS OR S.A.T. OR A.C.T. INFORMATION?
Yes. High school transcripts are to be uploaded to the application and submitted together.
Applicants have the choice to submit SAT or ACT score information and that can be found on their high school transcript. If you haven't taken the SAT or ACT that is ok. You are still encouraged to apply for the Lilly Endowment Community Scholarship.
ARE ESSAYS REQUIRED?
Yes, all applicants are required to write 3 essays.
ARE APPLICANTS REQUIRED TO SUBMIT RECOMMENDATION LETTERS?
Yes. Students will only need 2 recommendations letters this year.  Only 1 can be from full time school personnel. Choose references who will give you a good recommendation. Contact those references in advance and ask they complete the information and obtain their email address as this is how they will complete the information.  After you submit your scholarship application, you can then send the link for your recommendation to complete. Once completed by the reference, the information it will be sent directly to the community foundation.

DOES THE LILLY ENDOWMENT COMMUNITY SCHOLARSHIP REQUIRE AN INTERVIEW?
Yes, the Top Honor students which consists of 10 students selected based on their applications submitted will be contacted on Friday, September 30 with the interview to take place on Tuesday, October 11 at the community foundation.
HOW CAN SOMEONE GET THE APPLICATION?
Online at www.NobleCountyCF.org. Everything to submit will be online…. that includes transcripts, essays, and recommendation forms. No paper copies can be turned in.  You will be able to register an account, save your work, submit your application and then request recommendation letters all online. When an applicant submits their completed application, if any missing REQUIRED information is not completed, that area will turn red.  Once an application is submitted, you will receive an email confirmation indicating your successful submission (be sure to check your junk email).
TELL US AGAIN WHEN WILL THE SCHOLARSHIP APPLICATION BE AVAILABLE?
It is on our website now at www.NobleCountyCF.org Application period is August 3 to September 7, 2016 at 3:30 pm
WHEN IS THE DEADLINE TO SUBMIT THE LILLY ENDOWMENT COMMUNITY SCHOLARSHIP APPLICATION ONLINE?
Wednesday, September 7, 2016 @ 3:30 PM. Remember no paper copies can be submitted. It's all completed online.
WILL YOU BE OFFERING OTHER SCHOLARSHIPS?
Yes, while that information is currently being determined, the application period for the general scholarship applications will be November 21 to January 18, 2017 at 3:30 pm. This will be all other scholarships offered through the community foundation.
WHERE CAN THOSE APPLICATIONS BE FOUND?
Visit our website at NobleCountyCF.org and click on the scholarship tab.
DO YOU OFFER ANY ASSITANCE FILLING OUT THE APPLICATION?
We do offer a tutorial video available on our website. It will help walk applicants through the Lilly Scholarship application and the general scholarships offered.  It is a short video on the overall application process.  Or you can email me at jennifer@noblecountycf.org or call me at 260-894-3335.  Students need to remember to register an account, complete and submit the application THEN send the recommendation link to their references.
WHAT KIND OF TIPS WOULD YOU OFFER?
Do not wait until the last day to start or submit your application. The last few days of the scholarship application period is very busy for us.  Submit it early.  WORK WITH YOUR GUIDANCE OFFICE. They have the best resources for many different scholarships available! The community foundation is open 8:30 am to 4:30 pm if you have questions when completing the application, please contact me at 260-894-3335.
https://cfnoble.org/wp-content/uploads/2016/07/excellence-picture.jpg
480
640
Jennifer Shultz
https://cfnoble.org/wp-content/uploads/2017/02/nccf_logo-1.png
Jennifer Shultz
2016-07-22 15:44:02
2016-07-25 15:03:22
Scholarship News